Anqing Huapeng Company won the title of "Contract-abiding and Creditable Enterprise
---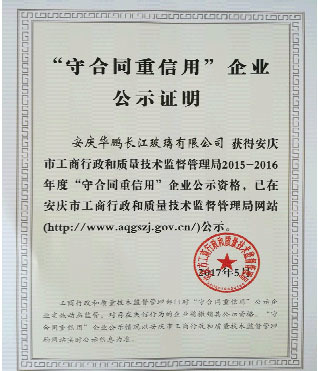 In July 2017, Anqing Huapeng Yangtze Glass Co., Ltd. was awarded the honorary title of "Contract-abiding and Creditworthy Enterprise" in 2015-2016 by Anqing Administration for Industry and Commerce and Quality and Technical Supervision Bureau.
This award is the affirmation of Anqing company in the past year in accordance with the law and integrity of the operation, but also to Anqing Huapeng company's future work put forward higher requirements and expectations.
Over the years, Anqing Huapeng Company attaches great importance to the construction and management of the contract and trustworthy, the establishment of a sound contract management system, the establishment and improvement of the contract file management, the development of a scientific and strict contract evaluation procedures, seriously put the contract signing off, performance off and settlement off, to effectively ensure the economic interests of the company.
"Anqing Huapeng Company will take this as the motivation to always keep the contract, operate in good faith, fulfill the promise, and compete fairly" as the business purpose, constantly improve the contract management, and make its own contribution to the development and growth of the company. own contribution to the development and growth of the company.