Group company leaders to Shandong Huapeng research and guidance work
---
Group company leaders to Shandong Huapeng research and guidance work
May 23, the group's party committee member, deputy general manager Zhao Bing and his entourage, to Shandong Huapeng research and guidance work. Comrade Zhao Bing went into the production line, investigated the production process of vessels and bottles and jars, product quality control, safety production and other related situations, and on the production and operation of Shandong Huapeng and the subsequent business development for discussion and exchange. During the investigation and research, Rongcheng Municipal Committee Standing Committee, Weihai High Park (Shidao Management Zone), Secretary of the Party Working Committee, Director of the Management Committee Wang Dezhi, Weihai City, Deputy Director of the Local Financial Supervision Authority Qin Tai, Rongcheng City, Director of the Local Financial Services Center Song Jun and other leading comrades accompanied the relevant activities.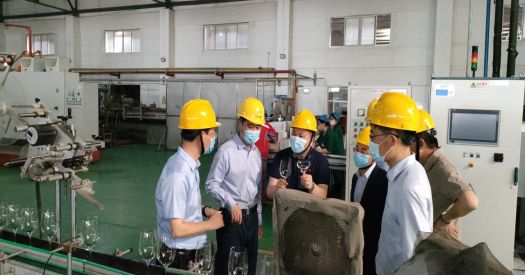 At the symposium, the main person in charge of Shandong Huapeng reported the development history of the enterprise, production and operation, as well as the initiatives taken to deal with the difficult situation. Comrade Zhao Bing, on behalf of the group company to the local government has long given Huapeng company's strong support to express gratitude. He pointed out that the group is very concerned about the business development of Shandong Huapeng, the year before the establishment of Huapeng to promote the development of the work team, the group's main leaders personally, the upper and lower concentrated efforts, together planning the development of Huapeng big picture. The next step, the group as a strong backing Huapeng company, will continue to unswervingly help Huapeng development, do everything possible to help Huapeng ease the pressure of operation, while the development of enterprises can not be separated from the support of the local government, I implore the local government in the coordination of enterprise financing, inefficient assets investment cooperation, preferential policies to support the transformation and development of enterprises and other aspects continue to give care and support.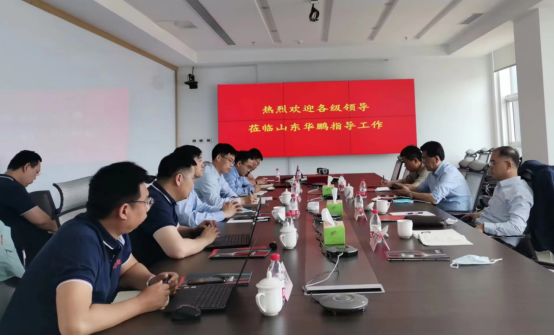 Participating comrades said, Huapeng as a local listed company, its sustainable and healthy development of the local government has important significance, the relevant departments will continue to provide support for Huapeng in helping the cooperation between banks and enterprises, revitalization of inefficient assets, the implementation of preferential policies, and also put forward targeted advice and suggestions for the subsequent development of Huapeng.
Weihai Haigao Park (Shidao Management Zone) Party Committee Member, Deputy Director of the Management Committee Liu Chaoyang, Director of the Economic Development Bureau Wang Dali, the relevant staff of the Group's Capital Operation Department, Shandong Huapeng part of the team members to participate in the discussion.