The company won the honorary title of "Weihai Healthy Enterprise".
---
The company won the honorary title of "Weihai Healthy Enterprise".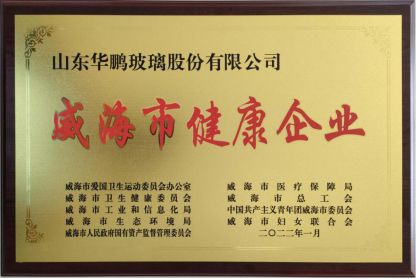 On May 24, Weihai Municipal Health and Health Committee, together with Municipal Health Care Office, Municipal Industry and Information Bureau, Municipal Ecological Environment Bureau, Municipal State-owned Assets Supervision and Administration Commission, Municipal Medical Insurance Bureau, Municipal Federation of Trade Unions, Municipal Youth League Committee and Municipal Women's Federation, held the awarding ceremony and work promotion meeting of Weihai Healthy Enterprises. The company won the honorary title of "Weihai Healthy Enterprise" and became one of the first eight enterprises in Weihai City to pass the acceptance of the construction activities of "Healthy Enterprise" in Shandong Province.
Creating a healthy enterprise is one of the specific measures to implement the "Health Shandong 2030" planning outline, is an important initiative of Shandong Huapeng "I do practical things for the masses of employees" practice activities. The company carefully plan, co-ordinate the deployment, develop a detailed implementation plan, according to the "health enterprise acceptance standards" in 5 categories of indicators 116 content to sort out and check, reverse the plan, clear important work time nodes, one by one to implement corrective measures, highlight the key points, make up the shortcomings, and promote the implementation of the health work in place.
Through the unremitting efforts of all employees, the company's health management system has been constantly improved, the production and living environment has been effectively improved, the level of health management has been greatly enhanced, the health culture has been deeply rooted in people's hearts, and the health awareness of the majority of employees has been further enhanced, realizing the development of enterprise construction and employee health in the same direction, and providing a solid health guarantee for the company's high-quality development.
Healthy enterprise construction is a long-term process. In the next step, the company will further consolidate and improve the construction results, effectively meet the health needs of employees, and enhance their sense of access, happiness and security.