Shandong Huapeng "Frosa" new products shine Guangzhou Hotel Supplies Exhibition
---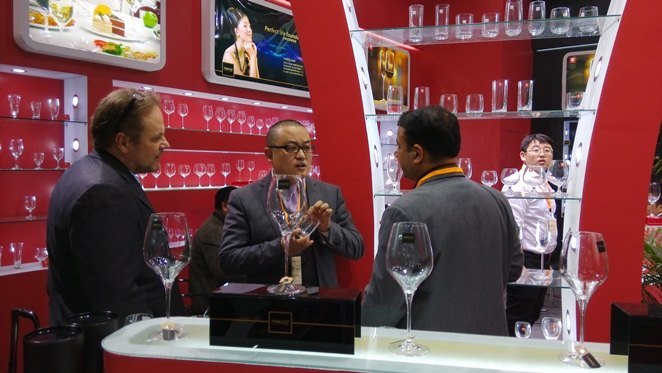 Ltd. participated in the China-Guangzhou Hotel Supplies Exhibition held in Guangzhou Pazhou International Exhibition Center from December 10 to 12. This exhibition Shandong Huapeng set up a total of 9 standard booths, designed and produced by professional companies, all using special effects, the area and scale is the most in recent years, the venue mainly showcased Huapeng company "stone island" and "Frosa" two main brands and related products. Especially the "Frosa" hero series sealing welding stretching new products, with its noble and elegant, crystal clear and durable characteristics, by the new and old customers of high attention and consistent praise.
As an annual event of Chinese hotel supplies, this exhibition in Guangzhou has a total exhibition area of 120,000 square meters, nearly 6,500 booths, more than 2,000 exhibitors and 200,000 professional visitors, gathering glassware manufacturers and traders from the United States, France, Germany, Thailand and other countries and regions, as well as domestic and foreign dealers, hotels, hotels, restaurants and entertainment venues of senior personnel.
Through this exhibition, Shandong Huapeng Glass Co., Ltd. has more opportunities to communicate directly with customers face to face, to further understand the market situation and dynamics, listen to customers' ideas and suggestions, for the company to further target the market and customer needs, increase new product development and expand market share to lay a solid foundation. Through the "Frosa" new product display, Shandong Huapeng also to all customers and consumers to show the strong R & D strength and brand influence, and convey a new signal: as the two main brands of Shandong Huapeng "stone island" and "Frosa" brand "Frosa" brand image and corporate strength is reaching a new height, but also to the company is cooperating with the majority of dealers and customers injected a shot of strong heart, more determined to deepen cooperation with the company and confidence.