Shandong Huapeng successfully landed on the main board of SSE
---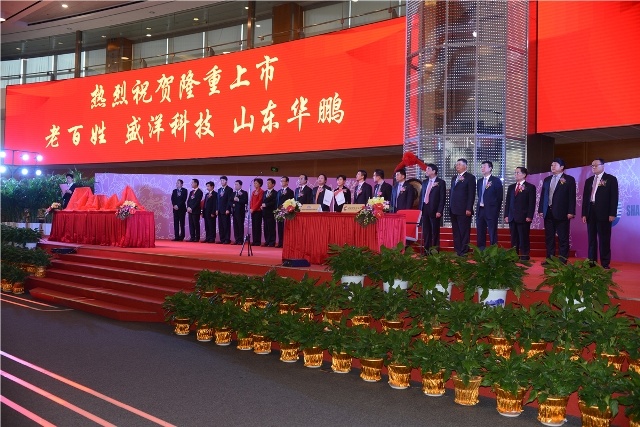 Ltd. was officially listed on the main board of the Shanghai Stock Exchange at 9:30 a.m. on April 23, becoming the third daily glass company listed in China's daily glass industry after Shandong Pharm Glass and Anhui Deli, and the second newly listed company in Rongcheng City. Ltd. and attended the listing ceremony, Xu Lianxin, Vice Mayor of Weihai City, Jiang Shan, Deputy Secretary of Rongcheng Municipal Committee and Mayor of Rongcheng City, respectively, sounded the gong and delivered a speech for the listing of the company.
Ltd. stock abbreviation "Shandong Huapeng", the code for 603021, listed sponsor broker for the Guangfa Securities. April 2, the Securities and Futures Commission approved Shandong Huapeng issue not more than 26.4 million shares, using a combination of online and offline issuance.
Shandong Huapeng is a leading enterprise in the domestic daily glass industry and one of the top ten enterprises in China's daily glass industry, as well as the largest manufacturer of mechanical glass highballs in China, enjoying the title of "China's glass highballs ace enterprise". The proceeds from the issue of new shares, after deducting the issue expenses, will be invested in the projects of introducing the technical transformation of the production line of high-grade glassware, introducing the construction project of the production line of tall glass cups and repaying bank loans. After the completion of the investment projects, the production scale and product structure of the enterprise will be enhanced and optimized, and the competitive advantage of the industry will be further strengthened, which will also significantly enhance the subsequent sustainable financing ability and anti-risk ability.
Shandong Huapeng landing on the capital market is a milestone event in the history of the development of Shandong Huapeng, will certainly achieve sustainable rapid and healthy development and bigger and stronger for the company to inject new vitality and power.