Shandong Huapeng's 2016 Spring Festival Cultural Performance was wonderful
---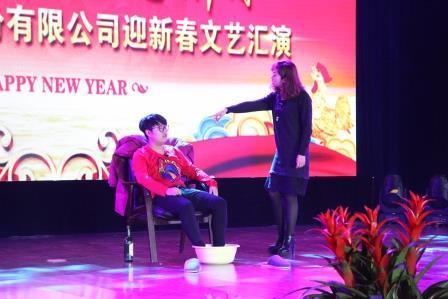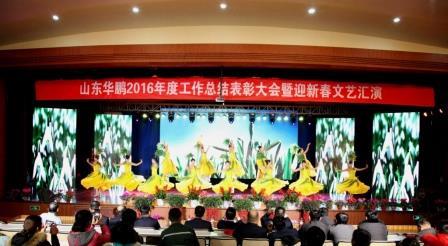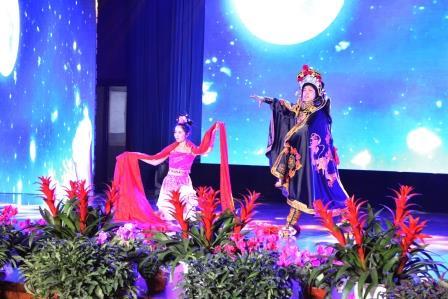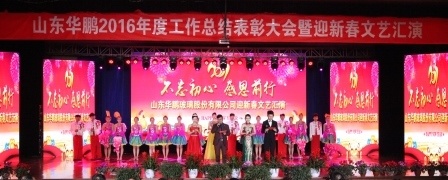 In the afternoon of January 19, the company to "not forget the beginning, thanksgiving forward" as the theme of the 2017 Spring Festival cultural performance in Huapeng Auditorium, the company's leaders and all cadres and staff to participate in the company's 2016 annual work summary commendation conference watched the beautiful, wonderful The audiovisual feast.
The cultural performance adhere to high-grade, high specifications, the use of high-definition LED screen, and the stage additional lighting design, coupled with selected dynamic materials, creating a magnificent atmosphere, colorful scene atmosphere, to meet the higher requirements of today's choreography.
The cultural performance opened with a large song and dance "Sailing Spring", and the energetic dancers created a passionate and joyful atmosphere as soon as they came on stage, signaling that the company has embarked on a new journey of "second venture" and creating brilliance again; the guest judge of CCTV Avenue of Stars, music singer-songwriter and host Li Shuaiwei, an original song "Happy People to dance" showed the vigorous vitality and youthful energy of young people, won the warm applause of the audience; Liu Linlin's saxophone performance "Why are the flowers so red" formed a warm interaction with the audience, pushing the atmosphere to the climax. The comedy skit "It's all about drinking" was humorous and entertaining, telling everyone the importance of controlling alcohol consumption and keeping family harmony. Yao Aiju, the "talented girl" of the company who had won many competitions, performed a song called "Beautiful Home" with a pure and beautiful tune, emitting the fragrance of the fields and farming, outlining for us a beautiful home in our dreams. The magic performance "Dream" was performed with simple items such as string, empty barrels and transparent boxes as props, but under the effect of "magic" performed by the praisers, it showed incredible changes and miracles to everyone, which won everyone's heartfelt admiration. The performance of the Beijing Hu and the dance "Deep in the Night", with passionate performance, beautiful dance and Sichuan opera face changing, made everyone's ears refreshing and applauded. The cultural performance lasted for more than 60 minutes and came to an end in the beautiful melody of the large song and dance "Embrace Spring".